Are Maltipoos playful... yes they are .
they love to play and romp with the kids .Great family pets .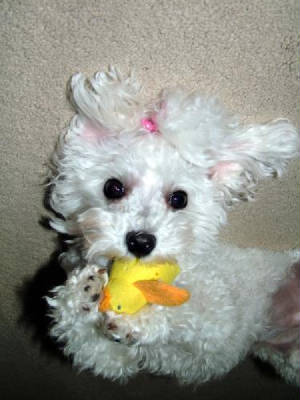 Do Maltipoos get along with children ?
yes they do ,they seem to be born with a natural love for children and adults as well .
Do Maltipoos get along with other animals /
yes they do .Mine are raised with cats ,birds and other dogs .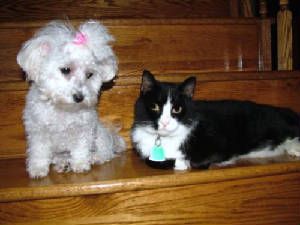 MALTIPOOS MAKE GREAT THERAPY DOGS ,LAP DOGS ,
FAMILY PETS AND HAVE A NATURAL LOVE FOR THE HUMAN RACE AND IT SEEMS FOR OTHER ANIMALS AS WELL
MATIPOOS FROM POOS-4-U HAVE ALWAYS ADAPTED WELL ,SOME ARE MORE STUBBORN THAN OTHERS ,SOME TAKE LONGER TO POTTY TRAIN THAN OTHERS.
BUT ALL IN ALL OUR MALTIPOOS HAVE SHOWN TO BE HEATHY ,HAPPY AND AN AUTOMACTIC FAMILY MEMBER .
THEY TEND TO ADAPT WELL TO THE MOVE FROM HERE TO THEIR NEW HOMES AND CAN MAKE YOU LIGHT UP WITH THEIR ANTICS AND MAKE YOU FEEL SPECIAL WITH THEIR LOVE .ALL IN ALL THE MALTIPOO IS ONE SPECIAL BABY !
I CAN ONLY ANSWER BY MY OWN CUSTOMER FEEDBACK AND MY EXPERIENCE WITH MALTIPOOS .
PLEASE NOTE THAT I CANNOT SPEAK FOR OTHER BREEDERS OR FOR ALL MALTIPOOS /MALTEPOOS THAT COME FROM OTHER BREEDERS .
POOS-4-U TAKES SPECIAL PRIDE IN ALL OUR PUPPIES .WE TRY TO MAINTAIN A HIGH STANDARD OF PLACING OURS WITH FAMILIES THAT UNDERSTAND AND THAT PICK UP WHERE WE LEFT ON IN TRAINING ,LOVE AND VET CARE .MALTIPOOS ARE THE BEST .