To groom or not To groom ,that is the question !
LOL ! Okay ,we all know that any poo has to be groomed .There are puppy cuts ,teddy cuts ,cut it all off or let it grow and brush ,brush ,brush ! Still have to brush even if a puppy cut ,just not as much .
A good groomer will help you to find the right cut for your pet ,also will help with the right shampoos ,conditioners and coat brushes .Here are some photos of different cuts that may or may not help you .Enjoy !
A good groomer can help you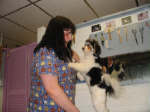 choose the right cut for your pet
MAlTIPOO GROOMING PAGE
Samples of maltipoo cuts and grooming styles
THE SOFT AND GRACEFUL LOOK


GRACIE,OWNED BY DENISE

THE SMOOTH SILKY LOOK


BUTTERCUP,OWNED BY LINDA

THE FLUFFY LOOK


XEDA, THE MALTIPOO

the 'I am an adult look "



THE SOFTER POODLE LOOK (LOOSE CURL )


SAMMY THE MALTIPOO,OWNED BY DENISE

THE CUTE LOOK


CALLIE,OWNED BY SHERRE